Rising artist Dmoyo360 has released the song "Chipeo" which talks about having fun, and being hype
Rising artist Dmoyo360 has released the song "Chipeo", a great song that talks about having fun, being hype, and is a party song. The song has been getting a lot of compliments from people around the world. Everyday Dmoyo360 looks at his charts on Spotify and is very amazed because of the results he is getting. Chipeo is a Dembow track, a genre of music from the Dominican Republic, which is like house music or EDM, that makes you want to jump up and dance.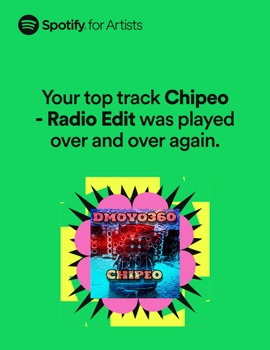 His passage through music and the urban world began at 16 in his hometown Dominican Republic. From a young age he felt a great interest in expressing his art and emotions through rap, and writing street poetry that reflected his feelings. He has a 13-year musical career, but this passion was born long before; as a child he was part of clandestine events taking place in the Capotillo Sector of Santo Domingo, in Villa Agrícolas and Villa Consuelo.
The urban genre is a passion for him. He enjoys every one of its facets, from the style of dress, its history, what it represents, to writing, singing, and creating art that contributes and helps to the growth of this movement. Music is his antidote and medicine. In music he finds his passion and is in his element.
Throughout his artistic career, he has collaborated with producers like La Greeña, Arkey-O who is the producer of Wisin, and Yandel, Almighty and Ozuna. Also with Leo Producing, the producer of Rochy, Tokischa, among others. He's no different from anyone, just the best at what he does… and that's music!
OFFICIAL LINKS:
Instagram
https://instagram.com/dmoyo360?igshid=YmMyMTA2M2Y=
Spotify
https://open.spotify.com/artist/0FHoqYyxR2sPc6h9osCaJp?si=ITBa4rHVQrOtxkQqhI3ztA
YouTube
https://youtube.com/@Dmoyo360
Where To Buy Music
https://music.apple.com/us/artist/dmoyo360/1477964446