INTERVIEW – The Kraken Music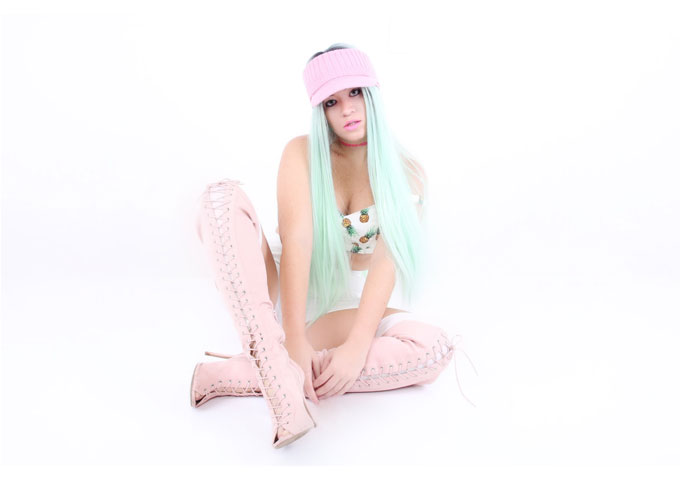 The Kraken Music (Carolina Goncalves) is an EDM/ POP female artist from Rio, Brazil. She is a singer, songwriter and producer. She will be performing at the Mesa Music Festival, Los Angeles, Phoenix, Orlando and more. Working with producers all over the world helped The Kraken has developed her skills as a songwriter and creates a unique way of exploring her diverse cultural background. She had her second song signed by Universal Music and featured in Hit Mania 2016 Album along with big names like Hardwell, Avicii, Lost Frequencies, Dimitri Vegas, Like Mike, and many others. Her new releases are now signed by Warner Chappell Brazil.
How long have you been in the music business and how did you get started in electronic music in the first place? 
The Kraken Music: I've been in the music business since 2016, when after my second song released by my independent record label in Italy was selected and featured on an important album of Hit Mania/ Universal Music, with big names such as Hardwell, Jason Derulo … After that, I felt confident enough to really deal with my career and considered myself a serious professional. Before that I was studying, training and trying different music genres, to improve myself. Falling in love with Electronic Music happened on that period, I started to study this music genre that somehow highlighted all the areas of my purpose in music: bringing people together, partying, make them have hope and feel good about themselves.
Who were your first and strongest musical influences that you can remember?
The Kraken Music: There's so many! I think, in Electronic Music, Avicii was my strongest influence, his song "Fade Into Darkness" was the reason why I started to study Electronic Music. When something can touch you deeply as this is when art is serving their purpose, emotionally changing you for the better and making you think differently.
Which new artists are you currently listening to or find interesting? 
The Kraken Music: Oh, God! There's so many again, I'm always listening to new music and finding artist I didn't know. I've been listening to Kris Wu, his song "Freedom" was something different that I really liked, Lauv ft. Julia Michaels "There's No Way", Clean Bandit ft. Demi Lovato "Solo", The Chainsmokers new one with Emily Warren "Side Effects"… Looking at my answer now I think I'm too Pop lately, that's cool for me.
What do you feel are the key elements people should be getting out of your music and you as an artist? 
The Kraken Music: My songs show off my true thoughts about what I'm feeling, but I always try to highlight the optimistic, funny side of it, because I believe that when you are celebrating you can change your energy enough so you can see what you can do to transform your life into what would make you happy. The purpose of my art it to make this possible because feelings are very powerful and are also a form of communication, is not just expressing my feelings, is connecting with everyone else.
What do you think separates you from the crowd of EDM music artists emerging right now? 
The Kraken Music:  I've been different from the beginning, I wanted to be a singer and songwriter on a music genre that maybe 98% of even more were DJ's, I've started my career internationally with no investments or managers, all based on what I could produce in music and as an artist, I never met many of the people I work daily and being from Brazil didn't stop me to start an international career inside of my room. I have fans, press, and music on all over the world now being a self-made artist, which gave me the opportunity to mature and understand what message I want my art to send and how well I will be able to  do that on the songs, on the interviews, with my fans, and on the stage.
You've had your music released via Universal Music and Warner Chappell Brazil, but you also have your own music label. Is the label only dedicated to your music, or do you also welcome other artists? 
The Kraken Music:  Not at all, DK Records have other artists besides me that released songs and were good on Italian charts and the music scene. This record label is more focused in that area, but me and Mr. Diddy, since the beginning had interests on having other artists there.
What is the origin or meaning of your artistic name 'The Kraken Music'?
The Kraken Music: Kraken is a giant octopus of northern mythology, most of the times described as a monster.  I was many times considered this creature because of my personality, the way I can work with different music genres at the same time and communicate easily with different cultures. "Like a huge octopus", not everyone at the beginning said as a compliment but I thought it was and it made sense for me, so it didn't bother me when it's stuck. Besides that, I think my career made me break this "boundaries" of a singer of a music genre of DJ's, being a self-made artist with no investments but international, having fans from all over the world, and so many other things that people said it wouldn't be possible. It's just myself and my career with my tentacles in so many places and cultures.
What would you consider a successful, proud or high point in your career so far?
The Kraken Music:  I would consider the moment when I decided to take my career in my hands and even with no investments I released "You and I", "What About You" and "Party", promoted as I thought and I could do, started to speak what I believed and because of that I started to connect with people from all over the world, places I don't even know how like China, for example. The numbers were showing, I started to have fan bases… This moment in 2017 was what made it possible for me to do what I'm doing today, press and tour internationally, having the freedom and ability to work on my purpose with music and connect to people the way I think it will be better. So this was something that I considered a successful step and the best thing I feel like I'm only at the beginning of it.
What has been the most difficult thing you've had to endure in your life or music career so far?
The Kraken Music:  Oh difficulties were and are a daily routine, but I think the biggest one wasn't something from the outside world, you know? I think the biggest difficulty never goes away, it's just something we learned how to deal with, like with time and things I've already done I feel that no matter what I will be able to learn a do my best and because of that I will make a positive change in the world. My biggest difficulty was not focusing on what was possible, or what people said, trusting myself and learning how to make this idea, this career into a business that would serve my artist purpose but also be a successful business.
What key ingredients do you always try and infuse into your songs and live shows?
The Kraken Music:  The key ingredients in my songs are a strong personality, positive vibes and a touch of humor. Everything in my songs works on the message I want to say in the lyrics, so how I sing, the elements on the instrumental, the back vocals and effects, they all work to highlight the situation I talk about in the lyrics. I like this 3 combined because I always want people to connect and feel better. There's nothing better than saying what you want to say, sometimes make fun of yourself and try to see to the best side of it. On my shows, I transform those songs more into this party energy, so the instrumental gets heavier still following the message, but the show is not just the about each song separately, is about what my set will show and make people feel, along with my vocals and what I want to say. The show is a celebration, so I take care of every detail to really create this energy.
Do you also produce the beats and write the lyrics on your songs or do you collaborate with outside sources in any of these cases? 
The Kraken Music: I'm the songwriter and the singer in all my songs, I collaborate and work with different producers all around the world for the instrumentals. Today I have my own team, which understands easily the type of sound I want for each song, but I've always been good at working at the distance, not only with my songs but with other artists and producers as well.
Which aspect of being an independent artist and the music making process excites you most and which aspect discourages you most?
The Kraken Music: That's a very good question! About being an independent artist, the best part is being able to be free to be yourself and build the connection you think is better with your fans. The discouraging aspect of this is not something bad actually, the thing about being free is that all the responsibility, bills and profits are on you, so you have to plan better than anyone else, you don't have the right to fail, you need to figure out, study more, and make it work. But this is very important for maturing yourself enough so you will actually be better. Today it's possible for the artist to be in charge of his art, the business, and the process, and this can be amazing. About making music, I love even the boring parts, but the part I love the most is doing the first "Listening" after I finish all the things I thought the song needed.
If you had the chance to work with any internationally recognized and successful producer or artist, who would that choice fall on right now? 
The Kraken Music: As I'm currently focused on Tours, I would be looking for remixes or songs that I could easily transform or add in my sets. It would be an honor to meet and work with Steve Aoki, which I already saw performing and I do like the songs he makes, I think it fits perfectly on the shows and is really on the party concept that I also use in my performances.
Are you happy about the way the music system works right now, with digital platforms like iTunes, Tidal and Spotify etc., or would you change anything about it? 
The Kraken Music:  I used to think it was the best thing for an independent artist, honestly, I wrote several articles for Brazil and for Asia about digital platforms and the benefits I saw for an independent artist. But right now this system will probably have to improve in many areas, or as people are already discussing, the new thing might be the use of blockchain systems in the music business as well. There are many details about the digital platforms that did not follow the need of this new artist generation, they are stuck supporting a scene of 5 years ago, It's not my place to judge this but observing how systems were substituted overnight when they stopped serving the generation that would use them, I think those ones are walking in the same direction. Unless they really adapt, but honestly again, their changes are not "groundbreaking" enough as it would be needed to be on the same speed as things are going.
If someone has never heard your music, which keywords would you personally use to describe your overall sound and style?
The Kraken Music: I would use funny lyrics, strong personality, and party mood.
Do you consider the Internet and all the social media websites as fundamental in building a career in music today, and what is your personal relationship with the new technology at hand?
The Kraken Music: Absolutely, without internet, my career would never be possible because I started to produce with producers in Sweden, and all my career was made on my computer, even now, I mean I haven't been in all the places I have fan bases, so how this would happen without internet? Social media is very important but on the contrary of many things I've seen, I felt that I took the right direction when I decided to first define me as an artist before trying to build fan bases. I think it makes it simpler to gain attention when you really have something to show or talk about. And Cellphones, in my case iPhone is a lifesaving for contacts, messages, photos, edits, small videos, writing songs, finding directions, saving tour schedule, and the list goes on.
Tell us something about your latest release and where fans can find it. 
The Kraken Music:  My latest release was the remix of my song You and I and you can find it on iTunes and Spotify:
iTunes: https://itunes.apple.com/us/album/you-and-i-remixes-single/1421856424
Spotify: https://open.spotify.com/album/1Q7hg3qIxANebgxQA3jx8Y?si=R0TjEATqT36Vi3RXBR_Rjw
Oh Also on the shows of the USA Tour!
I know many people don't consider remix releases but I do. "You and I" was a very important song because it was where I defined myself on the type of sound I wanted from the streaming, like what The Kraken Music would sound like on a song you would listen in any hour of the day. It's a love song, with a strong personality, a little funny too, about falling in love when you don't expect to be feeling like this.  And the remixes are this idea on my tour concept, with powerful sound highlighting the feelings and moments on the song, driving you to a party vibe. So they are very special to me!
What is your relationship with visual media? Do you think videos are important for your music? Do you have a video you would recommend fans checkout, and are you busy working on something new for them?
The Kraken Music: I love videos, I've been giving more attention to lyric videos on my last releases, for many reasons like I wanted people to really pay attention to my lyrics, I thought it was a good way to start, but I guess the main reason is that I think this area will change a lot from now on. In my case don't feel 100% comfortable with this idea of creating a whole story that did not happen, with the music as the background, I'm not here to judge other artists, but I don't see myself doing that. I love the interaction and connection with who is watching, so both of my videos I try to create this connection.
"You and I" as is a love story so I made this trip to my favorite places here in Brazil and the other person in this couple would be who is watching the video. Like "You and I".
You and I Link:https://www.youtube.com/watch?v=7Xo_0z56hs4
And What About You is based on the moment I've created my artist image, I didn't want to be just one thing, I wanted to pass this message that you can be whatever you imagine, so I play directly with who is watching the video, using this idea of a usual YouTube video.
What About You Link: https://www.youtube.com/watch?v=kJ_L6gUtEKo
Do you prefer working and creating in a studio environment, or performing live and dominating an audience?
The Kraken Music: Both. In my mind, one doesn't exist without the other. I create so I can connect with my art. When I'm on the stage connecting, driving an audience with my music and what I'm saying, It will only work the way it should if I give my best on the studio and also bringing my music to someone that is at home studying or working, on their daily routine. I want to be this artist.
You are currently on a US tour. Tell us how that is going, and also let fans know what the next important step for you is in the near future? 
The Kraken Music: I'm starting the USA tour this week, my first stop is Arizona, then on the 13th heading to California, to LA and around the 17th I'll be flying to Florida, for the last dates in Tampa and meetings in Orlando. This tour is going to be intense because it's 3 states in 15 days, but I'm very happy to be able to fit it all on our schedule still on this year. We were only planning the USA Tour along with Europe and Asia tour next year, so these last 30 days were very busy, but we will be able to bring our party concept and energy to the USA this November.
I'm always updating everything on my Instagram, Facebook and Twitter:
IG: https://www.instagram.com/thekrakenmusic
Facebook: https://www.facebook.com/TheKrakenMusic/
Twitter:https://twitter.com/TheKrakenMusic
Website: www.thekrakenmusic.com