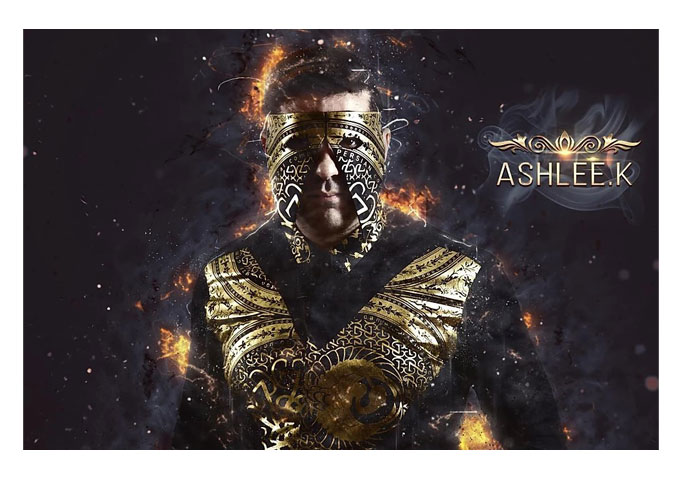 Ashlee.k went against his parent's desire and learned to play the guitar didactically, launching his first band at 18. He took interest in flamenco and classical guitar, and founded Octave, his first professional band, and gave many concerts as well as launching an album. Academically, Ashlee.k has studied music theory with the focus on Rock, Jazz, and Blues at the 'Conservatory of Music' academy. He was producing and composing music for the underground as well as major artists.
Because of his work, he came in contact with a varied range of musical input, which finally led to his detection of electronic music. After taking up electronic music, Ashlee.k has never turned back. His work carries influences from many genres: Eastern Folk, Classic, or Dubstep. Ashlee.k presents a more than harmonious blend of contemporary EDM, folk and classical elements as well as interesting Dubstep vibes. Germany based master of EDM music Ashlee.k takes EDM to a new level with uplifting productions.
When and how did you get started producing music and do you have any formal training?



In the beginning, I started as a music player. Then I began to make melodies for my solo parts for my performances. That was when I realized making music was enjoyable to me and from then on I concentrated on making music.
For most artists, originality is first preceded by a phase of learning and, often, emulating others. What was this like for you? How would you describe your own development as an artist and producer, and the transition towards your own style?



Ashlee.k: It was the case for me as well. Due to my parents' disapproval, I started this without training and just by listening. In the first phase, I did my best to imitate gurus when I played the guitar. I'd try to do it like them. Gradually, I found my own style.
Who were your first and strongest musical influences that you can remember?



Ashlee.k:  Ardeshir Farah, Linkin Park, Tiësto, David Guetta
What do you feel are the key elements people should be getting out of your music?



Ashlee.k: Energy, emotions and liveliness.
What do you think separates you from the crowd of producers emerging right now?



Ashlee.k: I have done various genres and have learned quite a lot. There is no point in sticking to a certain genre. I try to exploit the features of various genres in my music without boundaries.
What is your process when composing a beat? Where do start, and what comes into your head first – the tune or the rhythm?

Ashlee.k: It totally depends. Sometimes a rhythm in my mind, sometimes a melody or sounds I hear somewhere leads to producing a piece of music.
How strict are you with genres? Are you comfortable working with most genres and styles and what is your preferred style?



Ashlee.k: As I said earlier, I'm interested in many different genres and try to make use of them in my music without any limitation. However, electronic dance music is what I am basically passionate about.
What key ingredients do you always try and infuse into your production?
Ashlee.k: I'd try to use different elements in my music. However, the main ingredients in music are EDM's.
What has been the most difficult thing you've had to endure in your life or music career so far?



Ashlee.k: Getting started in music and learning without any support.
What would you consider a successful, proud or significant point in your career so far?
Ashlee.k: You can refer to the previous answer. Since I've done this, I'm totally proud of it.
What were some of the main challenges, difficulties or goals when starting out as a producer and how have they changed over time?
Ashlee.k: This career is packed with challenges. If this is what you want with all your heart, you've got to hang in there! Quite a few things change with the passage of time which brings about a lot of accomplishments.
What was your first hardware/software set-up as a producer like? Has your setup evolved since then, and what for you is the most important piece of gear in your production process right now?



Ashlee.k: My first software program to produce music was the early version of FL Studio. Yes, 100%. I have a lot of gear at hand now, i.e. Ableton Live, Cubase and many more plugins and other pieces of hardware.
Which aspect of being an independent producer excites you most and which aspect discourages you most?



Ashlee.k: Naturally, the way fans receive my music positively and even the messages I receive makes me happy and enthusiastic to want to carry on. I try not to become disappointed and keep it up!
Are you satisfied about the way the music business works in today's digital age with platforms like iTunes, Spotify, Beatport and Soundcloud, or are there any improvements you'd like to see?
Ashlee.k: As an electronic music producer, I'm totally satisfied with it. I'd say, independent talents could progress more easily now.
In general, do you consider Internet and all the social media websites as fundamental in building a career in music today, and what is your personal relationship with the new technology at hand?
Ashlee.k: As I said, I'm totally happy with it. I know a lot of artists who could present their work and talent through this and find their real place. Nevertheless, the number of people who have nothing to present and have cluttered the internet up with hogwash has increased as well!
If someone has never heard your music, which keywords would you personally use to describe your overall sound and style?



Ashlee.k: Freshness, ingenuity.
Could you tell us something about your latest release?



Ashlee.k: Sure. My latest music was "Keep Shaking It" which was a mixture of rap vocals, eastern melodies, flute and Darbuka Rhythm produced in EDM style.
Do you have a favorite track among your latest releases, which maybe has an interesting backstory and/or message that is important to you?



Ashlee.k: Picking out a track is quite hard. I'd say "Loving You Easy" could be a decent choice.
If you could choose to work with any current international artist today, who would that be?



Ashlee.k: As for artists, Ariana Grande or Selena Gomez and as for producers Steve Aoki and Zedd would be my choices.
Do you have a specific vision or goal that you would like to achieve in 2020?
Ashlee.k: I have planned several goals for 2020. I'd prefer to talk about them after achieving them, though.
OFFICIAL LINKS: WEBSITE – FACEBOOK – INSTAGRAM – YOUTUBE