Lyndon Rivers – 'For Your Love' ft. Mandy Jones
A man with a catalog that is starting to bulge with his contributions to the electronic music scene, Lyndon Rivers is a name can be etched in the upper echelons of the underground EDM scene. Always a trendsetter without ever setting out to do so, always in movement, Lyndon's releases go way past blurring the lines that divide genres, as he curates visions from the past and the future in each one. His back catalog is a true testimony of this reflex. It would be hard to find a better description for a rock-solid artist that has become a symbol for quality and cutting-edge music over the years, showcasing his vision while building an awe-inspiring playlist in the process.
The latest single from Lyndon Rivers, 'For Your Love' ft. Mandy Jones, embodies the euphoric emotions that lie within his music. Here we encounter cinematic synths, hypnotic sonic waves, plucky bass wobbles, emotive sequences, and haunting vocals. These textures give way to hypnotic grooves and melodic vibes, as Lyndon lays down a solid background, which allows for Mandy Jones to bring the heat. Here, an infectious vocal structure latches on to carry the song through.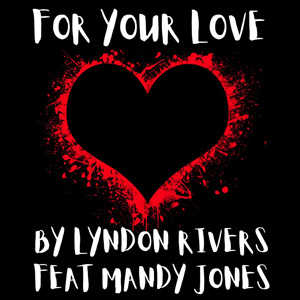 You will immediately notice that the sound quality is extremely good. You hear every sound, every hi-hat, and every layer of the track, crisp and clear. 'For Your Love' ft. Mandy Jones also crosses the producer's sensitivity and delicacy with the energy and power of his catchy beats and his powerful synths.
There are moments when restless percussive bursts construct a rolling foundation before entangling snares make their way towards a glistening rhythm that shimmers, reflecting echoes from its surface in mesmerizing fashion.
Intertwining in absolute harmony, the sonic tapestry woven by Lyndon Rivers uncovers a meandering bassline that slithers, expanding and contracting as it breathes a new life into the song. However, it's during the breakdown that 'For Your Love' ft. Mandy Jones is able to find its true form. Here, the song harnesses the tension in the air and grows unfettered as sonic spores fall suspended in midair before shedding its skin in a liberated cumulus of unadulterated bliss.
Featured vocalist Mandy Jones moves confidently through each bar and beat like an artist who wears her feelings proudly on her sleeve. "I'm dying inside for your love", she exclaims relentlessly, while with extreme care, Lyndon Rivers unveils a rich sonic backdrop as beauty unfurls at every turn.
The song evolves with every twist into a gripping and powerful cut that manages to conjure a sense of heartfelt intimacy and roaring bang. The result is a shiny, polished appearance, grounded by a generous cushion of bass, and topped off with a bright synth motif.
Once again, on 'For Your Love' ft. Mandy Jones, Lyndon Rivers shows that he is in complete touch with the realms of modern electronic music and its endless possibilities of stimulating emotions. The song undulates in mesmerizing shapes with finesse until it becomes a true force of nature.
OFFICIAL LINKS: FACEBOOK – TWITTER – WEBSITE – REVERBNATION