Lorelei Roux – 'Whip That Ass' ft. Kele Le Roc stays compelling!
When you look at the music of American songwriter, composer, multi-instrumentalist and producer, Lorelei Roux, you'll find common threads – she wears her extroversive personality, her lived experiences, and her absolute shapeshifting musical creativity on her sleeve. From front to back, her single "Whip That Ass" ft. Kele Le Roc, is bright playful, and cheeky. Every minute of it sounds like Lorelei was having the time of her life creating it. Banging drums, twisting synths, and rolling baselines blend into a euphoric backdrop underscoring a defiantly sexy set of vocal interludes. And even when you get past how much fun she seems to be having, there's still one more humongous element, and it's the most inescapable: "Whip That Ass" ft. Kele Le Roc is just so fucking catchy.
"Whip That Ass" ft. Kele Le Roc just soars. The rhythm that runs through it is totally relentless, designed to annihilate dancefloors with a drum and bass combination that goes beyond insane. The record feels like the most easy-to-love distillation of what makes Lorelei Roux so great.  An entirely different look at it could dig into how complex the song's time signature and beat is, as well as the ways Lorelei is able to so deftly adapt aspects of EDM into a high powered onslaught.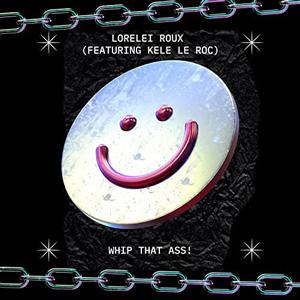 The key to Lorelei Roux's captivating pull lies within that fact that there are just so many different ways to dig into her music when attempting to understand it, and understand the artist behind it. Boundary-pushing creativity has always been at the center of Lorelei's musical world, but on this track, she hits upon a devilish mindset – a collision of chaotic, melodic and rhythmic impulses that trigger earworm catchphrases.
"Whip That Ass" ft. Kele Le Roc is one of those of thoroughly realized electronic tracks that defies time and eras. It seems not just funkily retro, but also ahead of its time, with a colorful and polyrhythmic aesthetic from the past that current artists are either unlikely, or unable to conjure up again. It is a snapshot of Lorelei Roux's wild imagination and bold artistic disposition. The track stays compelling because the tension between it's elements never let up.
"Whip That Ass" ft. Kele Le Roc is a record that's absorbed the rhythmic advances made by drum n' bass, yet scribbles furiously over its roots with sparkling and rumbling synth motifs, as well as splintered percussion. It's jagged, funky and smooth at the same time. This production is without a shadow of a doubt, one of Lorelei Roux's crowning achievements. This track is absolutely bursting at the seams with energy. The percussion drives that, keeping the tempo ramped up the majority of the time.
The synths and vocals allowing for critical momentum and tonal swings that prevent the track from ever arriving at a point of stagnancy. Lorelei Roux laces that formula with a variety of intriguing techniques, fitting inventive, and bustling futuristic synths. All the ideas swirling around "Whip That Ass" ft. Kele Le Roc give it an aura of an elaborately engineered matrix sprawling in scope and in depth.
OFFICIAL LINKS: www.loreleiroux.com  – @loreleisoft