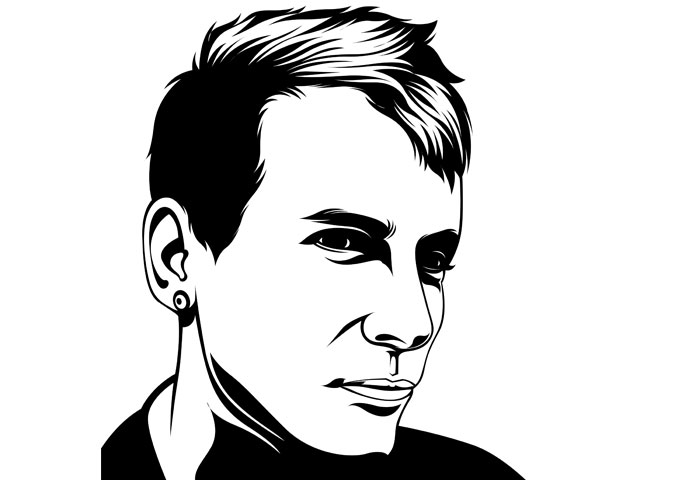 It all started during high school for DJ and Producer, Dj Rares, who was part of a EuroDance Band. This helped him to eventually embark on a solo career, as well as share several collaborations with artists and mainstream bands. Later, together with his colleague Joshua, they launched the Rares and Joshua project which still exists today.
When and how did you get started doing music, and do you have any formal training?



Dj Rares: It all started in high school when I was part of a band, learned the music theory and in the same time I took guitar private lessons.
Where does the moniker DJ Rares come from, and are you both a DJ and producer?



Dj Rares: Yes I'm a producer and also a Dj, Rares is my birth name. For English speakers it is pronounced "Raresh".
Who were your first and strongest musical influences?



Dj Rares: I can't name only one, I listen to multiple musical genres, different composers.
Which are the key elements you always try and put into your music?



Dj Rares: It depends on what musical genre I approach and depending on that I try to customize every song as much as possible
What do you think separates you from the crowd of producers emerging right now?



Dj Rares: I honestly never thought about this aspect. I am not in a competition with anyone and I do not make comparisons, I try to gain as much experience as possible
What is your process when composing a new song? Where do start, and what usually comes into your head first – the melody or the beat? And how do you then develop that idea into a song?



Dj Rares: I don't follow a standard procedure when composing a song, I can start from a verse or a solo and build the song around them, or I choose a theme and start building the chords and then beat.
What are you hoping to eventually achieve through your music?



Dj Rares: I make music for the people, I didn't set myself a goal.
Do you collaborate with other producers and artists, or do you prefer working alone?
Dj Rares: I started a lot of projects with different artists that I still work on, at the same time I am part of the Rares And Joshua band and I am working with my colleague Joshua on a new album.
Do you only create and work in a studio environment, or do you also find time to perform live? And if so, which of these two do you ultimately enjoy more?



Dj Rares: I also perform live with my band, I like both equally.
Can you tell us something about your latest music release and where fans can find it?
Dj Rares: My last song released is called "Midnight Run" and is my second synthwave track. It is available on all the platforms including Bandcamp.
Do you have a personal favorite track in your catalog that has a specific backstory and/or message and meaning very special to you?
Dj Rares: No
Where do you do most of your recording, production and mastering work? And do you outsource any or all of these processes, or do you do it all by yourself?



Dj Rares: My colleague and I built our own studio where we work on all our projects but also for other artists and clients , right now I am in the process of building a bedroom studio at home.
Could you tell us something about your current production setup, and what's your favorite piece of hardware/software in the studio right now?



Dj Rares: I believe that the human side is more important than the equipment, I'm using a few midi controllers, guitars and other instruments. As a DAW I use Cubase.
What has been the most difficult thing you've had to endure in your career or life so far?
Dj Rares: I was involved in an accident and I wasn't able to walk properly for almost two years.
On the contrary, what would you consider a successful, proud or significant point in your career so far?
Dj Rares: A lot of bands disbanded over time the fact that my colleague and I stayed together I can say it's a success.
How strict are you with genres and sub-genres? Do you only concentrate on specific styles?



Dj Rares: I listen to a variety of music genres, knowing a lot of songs from each genre, I am currently collaborating with artists who represent different musical genres
What do you find most rewarding about what you do? And do you have a specific vision or goal set in your mind that you would like to achieve in the near future?



Dj Rares: The fact that people are willing to buy a ticket or pay for a CD to hear my compositions. I hope to release our second album with my colleague Joshua in the near future.
What's your favorite motto, phrase or piece of advice, you try to live or inspire yourself by?



Dj Rares: I believe it doesn't matter where you come from but where you are heading.
In the time of social media, how do you handle criticism and/or naysayers in general? Is it something you pay attention to, or simply ignore?



Dj Rares: I spend very little time on social platforms and in general I don't really care what happens there, I have been told many times that this is a big minus in my career.
Finally, what's your favorite pastime or hobby when you aren't writing / producing / recording / playing etc.?
Dj Rares: I am a tuner in my free time and I like electronics and mechanics.
OFFICIAL LINKS: TWITTER – INSTAGRAM – SOUNDCLOUD – SPOTIFY