Dr UD Obi – "Christmas Ladadada" rings with familiarity and a feel-good spirit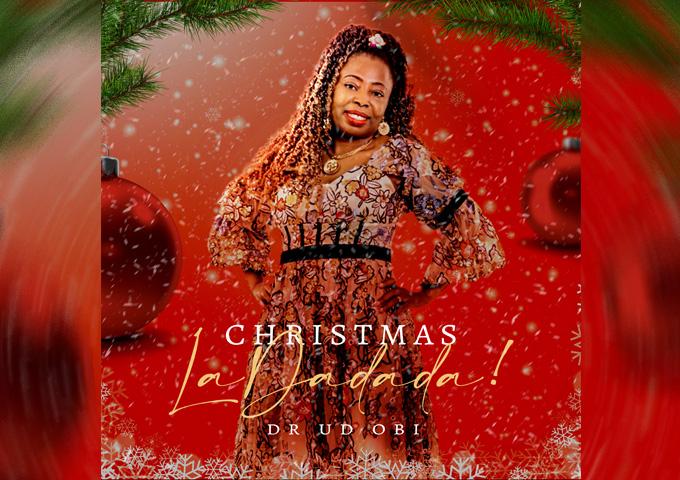 Dr UD Obi's brand new single "Christmas Ladadada" is a fine addition to her discography and a sensational holiday song that we're positive you'll be enjoying for many Christmases to come…and also in-between.  The song sprouts a soulful, upbeat groove, with a hip swaying Afrobeats flavor, and the singer-songwriter's usual, universal messages of positivity, love, peace, unity and joy. She wraps all of her intrinsic goodness into a Christmas box of musical bliss. This single is easily one of the season's early standout tracks. Dr UD Obi not only puts her voice on display here, but she also highlights her crystalline personality and Christian demeanor. "Christmas Ladadada" rings with the familiarity of sounding like something you may have heard before, and is easy to pick up after just one listen, which is awesome.
Usually one does not need much more than a few jingle bells ringing in the background of any song to make it sound like Christmas, but Dr UD Obi manages to go well beyond this, while embracing an infectious rhythm, alongside a lushly layered melody. "Counting down the days till Christmas magic comes my way. Trimming up the tree hot cocoa makes you feel this way. And when high season's change. That's when I sing a song like La da da da," exclaims Dr UD Obi, as she puts listeners in the festive mood, and in a feel-good spirit.
Few moments around the holidays are quite as divisive as the appropriate time to start playing Christmas music. Some would argue that as soon as the Thanksgiving leftovers are tucked away, it's the holiday season.
To others, any hint of a jingle bell shouldn't sound before December 1. A song such as "Christmas Ladadada" renders these opinions unnecessary.  No matter what camp you fall into, the all-embracing sound of this track fits the occasion, and could be played at any time.
No matter if you're resolutely committed to Christmas classics, or you prefer things with a more modern twist, "Christmas Ladadada" has both of those elements subtly and cleverly loaded into it.
Moreover, this is a song that emphasizes the importance of relationships with those you love instead of glorifying worldly possessions. A big part of the song is of course Dr UD Obi's voice. Her dulcet tones and thoughtful lyrics charmingly communicate the song's messages.
Everything Dr UD Obi delivers vocally on "Christmas Ladadada", feels like the right amount, and this is a skill, that not every vocalist possesses, or ever learns. Nothing brings on the merry feelings of the holidays quite like Christmas songs, but when you hear an original track like this bring on the same feeling as the classics, it shows the grasp and talent Dr UD Obi has in dealing with the subject.
In no time, "Christmas Ladadada" will have you dancing around the Christmas tree, dreaming of a happy Christmas, and telling your family, friends and loved ones that you'll be home for the festivities.
MORE ABOUT: Holding a doctorate degree in Engineering, Dr UD Obi is a singer-songwriter who is very passionate about spreading the word of God and the message of peace and love through music. She has always loved music and sang in choirs since she was a child. Her music is mainly inspired by her Christian faith and her name Udoka, which means, "Peace is great" in Igbo language. She is a very big fan of Lynda Randle, Whitney Houston, and Don Moen.
OFFICIAL LINKS:
UD Obi – YouTube
UD Obi (@drudgospelmusic) • Instagram photos and videos
Dr UD Obi (@DrUdGospelMusic) / Twitter
DR. UD OBI | Facebook
Dr UD Obi (@drudobi) TikTok | Watch Dr UD Obi's Newest TikTok Videos.