3Mind Blight – "Love Sick" brings darkened embers of fire that pierce your subconscious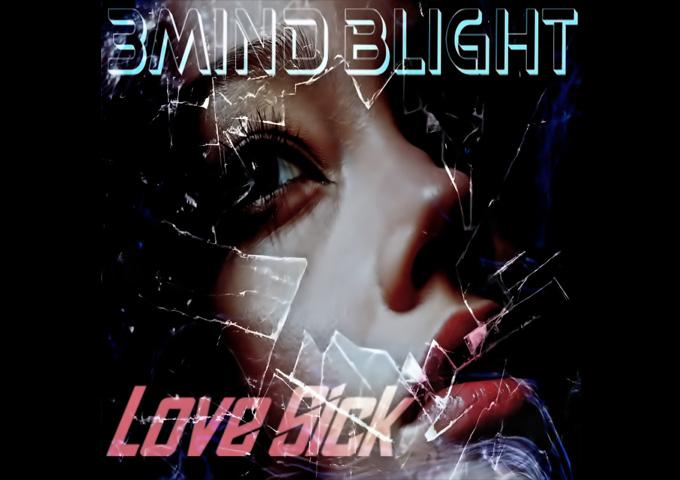 What has already been established, and proven on multiple occasions is that 3Mind Blight can sing, he can do a riff and he can write songs. After all, this is an artist with some really great songs under his belt. What needs to be continuously revealed is that he just keeps getting better at it. His consistency with the perfectly presented lyrical raptures and frustrations is impressive to behold. Every single one of 3Mind Blight's songs has an equilibrium within itself: a harmony that presents his typically engaging rock style that's both abrasive and melodic – which he tweaks a little bit with every passing iteration, as experience engulfs him.
Underneath the lathered basslines, and creeping guitar passages, 3Mind Blight's typical baritone and grit vocals bring darkened embers of fire that pierce your subconscious. The award-winning singer-songwriter uses his inspirations with auspicious results on the single "Love Sick", and that's because he has a solid foundation to build upon.
Up until now 3Mind Blight has released a constant stream of dark-themed rock and metal anthems that are memorable and can speak to a listener searching for catharsis and finding it in the words and voice of the singer. 3Mind Blight's penchant for sharp and concise songwriting has been a staple of his for years and he continues this trend with "Love Sick".
"Love Sick" hits with 3Mind Blight's familiar riffing structure as it opens into his trademark resonating vocal in the verse. The chorus hits hard with his forced vocals coming into the fray over the driving crunch of the guitars. It's nothing we haven't heard before from 3Mind Blight before, it just keeps getting better. This is 3Mind Blight's bread and butter, and as usual, he nails it without any issues, and sounding badass along the way.
3Mind Blight is perfectly capable of making huge anthemic metal and rock numbers that could be played on any respectable rock radio, and "Love Sick" is one of them.
The guitars throughout are beefy and have a sinister tone to them that marries up nicely with the somber and hard-hitting lyrics. They reach a sonic apex when they double up in harmony for a vicious but melodic wall of sound in the second half of the song.
When 3Mind Blight gets it right – which is almost always the case – he is capable of creating some of the most memorable and thought-provoking tracks in the genre. As a track itself "Love Sick" is a gut-wrenching listen when you actually soak up the lyrics.
There is no doubt in my mind that "Love Sick" will receive another gold stamp of approval from fans of 3Mind Blight, and acts as another solid representation of the state of his art. Despite the relative and distinguished success, that 3Mind Blight has had over the years I have always thought that he is a highly underrated artist.
When it comes to metal, rock, hip-hop and pop, plus a whole lot of other styles, there isn't much that his penmanship and performances haven't achieved. "Love Sick" is another sheer piece of brilliance from 3Mind Blight. Once again, the underrated mastery of this Tulsa, Oklahoma based artist is there for all to see.
OFFICIAL LINKS:
www.3mindblight.com
https://songwhip.com/3mindblight
https://twitter.com/3mindblight
https://open.spotify.com/artist/67IJEDXwI7U9S1pS2HJATp
https://distrokid.com/hyperfollow/3mindblight/love-sick