Zandrah Mereborg – "Go" – epic sounds that are balanced by lyrics that are instantly relatable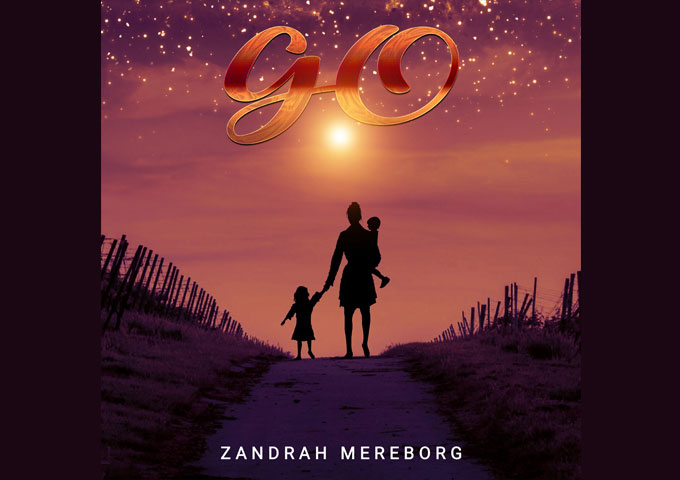 First, an admittance. I am a huge fan of the Swedish songstress Zandrah Mereborg, and her Argentinian producer Diego Gabriel Oviedo Bustos. Their previous work together has been phenomenal, as they mixed EDM and pop flavors together to produce exhilarating songs. After raising heads and pulses with 3-track downtempo EDM EP, 'In Full Bloom', they impressed with the otherworldly pop of "Again", and now bounce right back with a brand new single entitled "Go".
"We were working on many other projects, when this song took our focus completely, because of what's happening in Europe and Ukraine," explains Zandrah Mereborg. "We wanted to give recognition and comfort in a way to all those who are forced to leave their home-country," she added. "We know that music is a way of healing so this is our way to contribute in that aspect and hopefully it can help those who need it."
The prolific pair generated a track that continues to convey their grand and unique vision of life and impassioned sentiments. Overall, "Again" is panoramic yet always intimate, holding both a global and an individual meaning for the listener. Zandrah Mereborg also continues her pursuit of epic sounds that are balanced by lyrics that are instantly relatable. The overriding theme to the song, is humankind's fallibility, strength and hope, counterpoised by celestial vocal perfection, and captured within a shimmering soundscape.
Diego Gabriel Oviedo Bustos' sonic backdrop is filled with jangling guitars, huge oscillating string arrangements, and driving percussion. In fact, what is surprising is the sturdy underpinning of the track with fantastic drums and bass foundations. Bustos provides an environment filled with atmospherics that transports you to another one of his visions throughout the recording. At the same time, he creates the perfect template for Zandrah Mereborg to sing on.
With the release of "Go", Zandrah Mereborg and Diego Gabriel Oviedo Bustos again prove they are at the top of their class, displaying all their wares in this eloquent project. Fans of Zandrah's previous work will not be disappointed, and new listeners will be blown away by the growing abilities of the singer and her producer, to wow with their epic works. They just keep reaching greater heights than ever seemed possible.
Over and above the conscious lyrical impact of "Go", few artists capture a vibe better than Zandrah Mereborg. Vibes are perhaps the greatest tool at the singer's disposal. The immersive atmosphere her vocals create alongside Bustos' productions, being one of the most consistently enchanting aspects of their collaboration. Zandrah has essentially achieved that rarefied thing that most artists strive for but few really ever accomplish. She sounds truly like herself, and nobody else.
Much of "Go" is distinctive because of the details, both subtle and overt, in the music, lyrics and vocals that Zandrah Mereborg and Diego Gabriel Oviedo Bustos use to accent the song's 4 minute runtime. Their brand of captivating melody relies on a combination of lush instrumentation, hypnotic vocals, and impeccable arrangements. These moments are powerful but never overblown, and their presentation ensures that the song's emotions feel human in their intensity. All of which is to say, that this is a record, which is as dynamic as it is profound.
OFFICIAL LINKS: INSTAGRAM – YOUTUBE – SPOTIFY