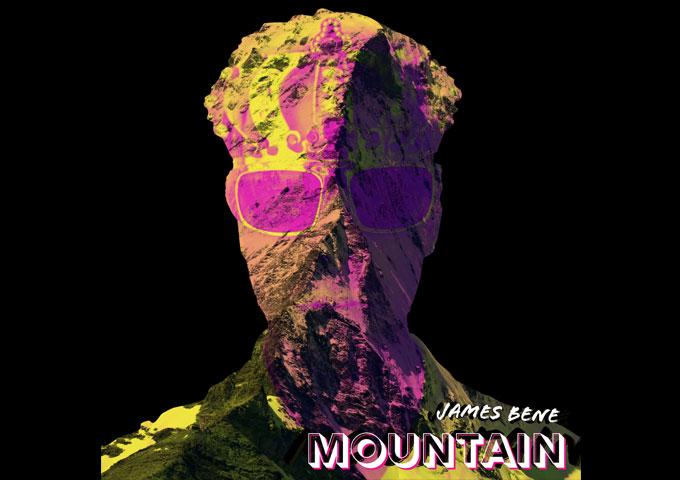 Following up the singles "American Warrior" and "Hours" is a gargantuan task. No worries though. As always, on his latest release "Mountain", James Bene showcases his prodigious vocal skills, delivering an overall balanced performance.  He is cool, calm, and collected on the verses, digging in intensely on the rousing bridges and choruses.  On his breakout single "American Warrior", James unpacked his fighting spirit and ambitious talent. Now on his latest single, he highlights his ability to rise above his fragilities, resist his vulnerabilities, and immensely grow his inner defense system to overcome malevolent external threats. The song's opening verses steadily unfold the self-empowering narrative.
"I was a just a little boy who knew too much. How to navigate the wilderness. I walked a million miles searching for a light. Then I was paralyzed by a mountain. As it grew I fell down, down, way down the rabbit hole searching for Alice. Cause I knew that I was broken and she'd have the remedy to kill my emotions. Then I never knew all that love could do. I was lost inside her garden. Till the colors faded into shades of grey and my skin began to harden, and somehow I became a mountain," exclaims James Bene.
Beginning with incredible vocal control, James' voice gradually ascends to the next dimension. That next level where only the vocally gifted dare to tread. He eventually breaks into a striking falsetto: "Yeah I'm a mountain a mother fucking mountain. As strong as a mountain."
Laying his voice over a rollicking production, the singer-songwriter declares his power, admonishing any negative force in the process. You can feel the sentiment in his voice, which soars across octaves on this standout.
It is always great to have a new James Bene track, as is it great to hear just how powerful this artist's voice and songwriting is, all over again. Moreover, James, co-produced "Mountain" alongside Killian Cruiser, and fully produced the remix of the song himself, while the vocals was mixed by Chris Garcia.
The lyrics are really good in this song, and the production allows you to pay attention to what is being sung. Extremely well thought-out, the music has been kept smartly layered and nuanced underneath the words, creating the perfect emotional pull that you can hear throughout the song.
"Mountain" channels James Bene's silky croon and ostentatious flair while staying true to his luscious pop aesthetic with an alternative twist. The singer's pure sass and untouchable confidence once again surfaces majestically in this track.
With his articulate, relatable songwriting and powerhouse vocals, James can hardly put a foot wrong on his musical journey. There is just too much talent and ambition rolled into his backpack, to leave him wanting.  "Mountain" is a meticulous, emotional, and soulful number that beckons you to listen with care.
With "Mountain", James Bene has outdone himself. The record proves he is a versatile and dexterous power in the recording studio. One of the things that will propel the Los Angeles performer through the ranks is his deep knowledge of his craft, and the ability to dominate it.
OFFICIAL LINKS: STREAMS – WEBSITE – SPOTIFY – APPLE MUSIC – Insta @jamesbene