Renaissance Woman Rosalee – recorded her first album, after the birth of her only son during the COVID pandemic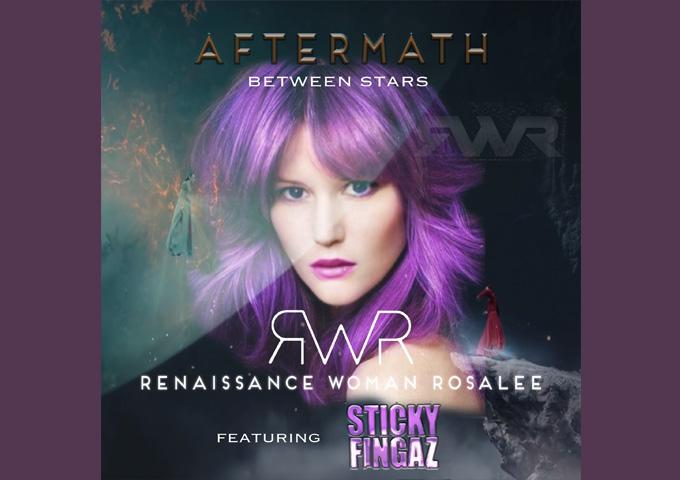 Spiritual-Rap Masterpieces – The representative for the new face, mixed race of a new genre of Spiritual Rap. Renaissance Woman Rosalee (aka MOmmmRWR aka Rosalee Laws) Rosalee has been busy serving up some music medicine for the soul over the last year. A new emerging micro genre of spiritual-rap, and a sub-sub-genre is Starseed rap, Spiritual rap is a sub-genre of hip-hop with the focus of healing and reaching for states of higher consciousness, awareness and kindness. It's both similar and different than that of Christian rap, but described as many "spiritual yet not religious." Many notable rappers like Lecrae have sprinkled the subject of spirituality including Rakim, DMX, and Big Sean. Yet most spiritual rappers are mostly known for Christian not Native American with Starseed Spiritual undertones. Renaissance Woman Rosalee's latest single; "Aftermath Between Stars," features Sticky Fingaz, preceded by Starzz, Before Time, featuring Cappadonna, and Message Part II, featuring Bronze Nazareth of Wu Tang. Her first album, "Rebirth", stayed on Amazon's Hottest New Releases for two weeks, going all the way to #2. featured – DMX, Snoop Dogg, Kxng Crooked, Killah Priest, DMC, Kurupt, Planet Asia.
She's worked with producers by Anno Domini Nation, Legion Beats, Temper Beats, Wyshmaster and Holy Toledo Productions. "Music was always the medicine for my own soul," Rosalee says Rosalee is literally the "Rose" that grew from the concrete. Born in Tennessee. Of very humble beginnings. Growing up she was shoved on stage at 3 years old to sing in various southern baptist churches. After her family became homeless as a child, Rosalee then moved in with her grandmother's home up north.
Overcoming child abuse, constant uprooting and a multitude of deaths of most of her friends and family, her lyrics pull from her traumatic experiences. Sprinkling in spirituality especially from her Cherokee and mixed race roots. She pulls inspiration from culture, issues with orientation and her many traumatic life experiences. She recorded her first album, after the birth of her only son during the COVID pandemic, "Rebirth – A Mother's Mixed tape. Rosalee recorded this first album during the night only months after her only child was born and becoming a single mother.
Finishing when the baby had still not slept through the night. Rosalee has developed her unique music style. "It's hard to express yourself when you go through traumatic experiences. With her higher consciousness spiritually-laced lyrics, Rosalee is not just a musician or even just an artist – She's been described as a multi-dimensional poet, lyricist, rapper, medium, spiritualist, and entrepreneur. A healer who uses multiple forms of artistic expression to offer soothing seeds & salves for the soul. As she likes to put it I try to bring the "Soul" to "sole."
It's not about religion. It's not about the Bible. It's not about going to church. It's that we are all part of the great spirit. Energies connected with a divine that's the sum of all its parts yet separate. It covers infinity. Mine is the music for misfits, that have suffered trauma, that cant find a voice of their own or express in their own words what they feel.
I just want to inspire the people who are stuck in shadowy dark places, cause I've been there so many times. "Many people don't realize how painful life can be, especially after stacks of trauma. Nobody is in your shoes and knows what it takes to overcome your situation. I just want to help those who feel stuck and make my own life my own masterpiece. There's room for everyone at the table."
LINKS******* Listen to Aftermath Between Stars Amazon Music
Spotify- https://open.spotify.com/album/73cv3QStrWrELN0KJgBtga?si=ZiCCXXnNT4iLHMmeIq6b-w
Youtube https://www.youtube.com/watch?v=Db96HVeG_dw
Earlier this year Rosalee was featured on 50 cents blog This is 50, https://thisis50.com/2022/01/05/renaissance-woman-rosalee-featuring-kxng-crooked-breathe/
Social Links/ Music https://linkmymedia.com/renaissance-woman-rosalee/
Instagram – http://instagram.com/rosal_ee/
Website – https://www.renaissancewomanmusic.com
Shout Outs Videos from Bronze Nazareth message II – https://youtu.be/LdLpsaM2NJo
King Crooked Shout Out on Grateful https://youtu.be/9O59US-5cbk
Soundcloud- https://soundcloud.com/rosalee-laws