Quevedo – "Night Ceremony" – Intertwining scintillating beats with soulful vocals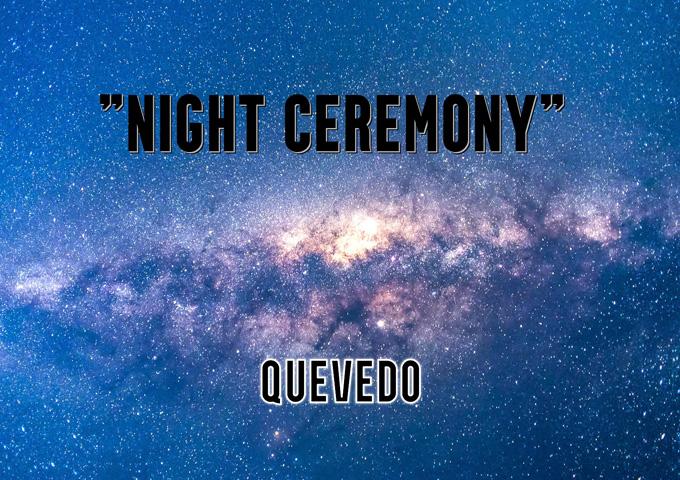 What qualities distinguish a good DJ? Some might suggest track selection and leave it at that, but the problem is that 'good track selection' is very subjective and will most certainly vary from person to person. Not to mention that a cursory analysis based just on track selection misses the other components that contribute to a DJ set. The frequency of track changes, transitioning between tracks, and creating the desired mood, all play a role in elevating a good DJ set from "excellent" to "amazing."
NYC, born, raised and based DJ, Quevedo, adds an extra dimension to that equation, which he explains eloquently, describing his set "Night Ceremony". "I tend to think of a setting when creating my sets, and this one meant to capture that feeling of when you're at a concert, the sun has gone down, and the night has just begun, and you're excited with the anticipation of what comes next."
Quevedo, who typically plays Afro-house, Latin-house, and Deep-house, has travelled to 57 countries, and has a penchant for mixing the influence of cultures, rhythms and multi-colored sounds into his music. The 45-minute set of "Night Ceremony" plays testimony to this aspect of his craft. Intertwining scintillating beats with soulful vocals, some classic tunes, and vibrant percussion, the glorious and utterly brilliant mix is enough to bring any room alive with Quevedo's prismatic skills.
Spinning a plethora of incredible dance tunes and providing powerful hints of both African and Caribbean rhythms in-between, "Night Ceremony" exploits Quevedo's ear-warming sonic choices and sleek overlapping rhythms that will keep crowds wanting more on a global level. Mixing a variety of pulsating beats with rolling basslines, and shimmering keys, Quevedo's dexterity and voluminous sound will leaves revelers highly impressed.
The heavily ethno-textured soundscapes sculpted on "Night Ceremony" make for a truly moving and universal musical experience. This is a set that will make you reflect while you gyrate across the dancefloor. It is a flawless mélange, which is both exotic and bold. Expect the unexpected, whether it's a horn, a marimba, sweeping strings or a thundering bassline.  It's a powerful signal from an accomplished DJ.
If you want an emotional reaction to a DJ mix, Quevedo should be on your shortlist. You'll love the evolution and smoothness between tracks, and the fact that he transports you to another world in respect to the usually popular DJ sets. Moreover, "Night Ceremony" is an amazingly inspirational mix to listen to, just as much as it is to dance to. I didn't know many of the tunes in this set, but I was captivated all the way through which in my opinion is quite rare.
Evoking feelings of deepness and oneness, Quevedo delivers an amazing DJ set that touches the soul in a special way. This is a wonderfully unique tune selection, which will entertain you throughout. Quevedo goes way beyond DJ's who simply 'show up' and 'play a few tunes' to get the crowd moving. It's not just the quality of the track selection or the deftness of the transitions, and the skill of implementing that combination; Quevedo's sheer cultural, musical and intellectual reach is impressive. Ultimately, there is a message in his mixes.
Connect with Quevedo on SOUNDCLOUD: https://soundcloud.com/quevedo-697529938