Musical Alchemist – 'Velocity Run' bounces with classic EDM vibrancy!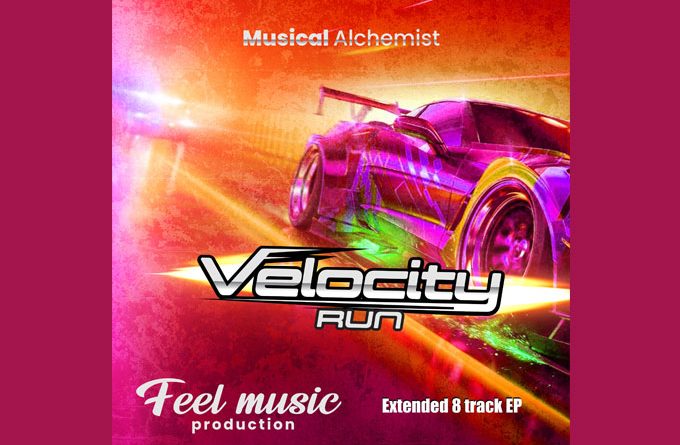 Jon is a versatile and innovative Newcastle-based producer and artist who works tirelessly to be relevant in the competitive musical world.  Better known as Musical Alchemist, he is a vastly gifted creator who has infused a 90s feel together with modern sounds, in his music. His album 'Velocity Run' aspires to making people feel better. Jon keeps his mystique intact while composing music meant for huge audiences across the globe, all while being being utterly uncompromising in his sound and vision. His sonic worldview is always uniquely Musical Alchemist.
The notion that classic EDM has run its course due to the over dependence on technology is totally dispelled by 'Velocity Run'. Mainly because Musical Alchemist knows a thing or two about keeping a sound relevant. It's that knowledge that's makes him cutting-edge. In fact, 'Velocity Run' is all about the beauty of looking forward while not forgetting the roots of where it all came from. A great attitude and an unwavering self-confidence doesn't hurt either.
Interest in the 90s electronic sound has never really died out, and is still one of the most in-demand styles in the game for all the authentic electronic heads. 'Velocity Run' is stacked with 8 tracks worth of classics, inspired by Avicii, David Guetta, and Tiesto, albeit with a modern twist. And while the album boasts some tremendously danceable beats, richly layered sounds, and feel-good vibes, these descriptions belie the subtlety employed by Musical Alchemist to evoke various moods across the tracks.
From 'Paradise Feel', 'Real Dreams' and 'Hyperdrive', to 'Sunset Tide', 'Arcane Night' and 'Velocity Run', the cinematic track names alone are mood and atmosphere inducing. These diverse states of musical being, flow ingeniously from start to finish and have got Musical Alchemist creating a standout album that will have you reminiscing and grooving wherever you are. Musical Alchemist is a master at creating a tapestry of sounds for each track, which in this album all revolve around the beat that palpitates through your heart, feet and mind.
Each song on 'Velocity Run' is laced with the classic waves of synth that are created to dance off the beat and the deep brewing basslines. Almost exclusively instrumental, the album also features 2 bonus vocal versions of tracks already included in the recording, namely 'Real Dreams' and 'Arcane Nights'. Already epic musical anthems, they instantly become euphoric, melodic earworms. The album begins with the track 'Paradise Feel' which consists of rich pianos, dripping percussive sounds and resonant retro synths.
'Real Dreams' opens with a hint of tropical keys, before exploding onto an animated and inspiriting banger filled with angular synth hooks and thumping drums. Things become distinctly cinematic and futuristic on 'Hyperactive', where a universe of strings weave between twisting synths, and skittering drums for an absolutely dynamic template. Surprisingly for an electronic album, 'Sunset Tide' kicks off with a fiery electric guitar motif, which represents itself throughout the song, creating an exquisite and interesting musical detour.
'Arcane Night' bounces with vibrancy, creating a recurring melody that is framed by punchy drums. It allows us to appreciate the smart layering of sounds and all the elements in the song. The title track 'Velocity Run' is composed beautifully with different elements, sounds and accents. The drums create a flurry of energy and rhythm that are emphasized by the stunning synths.
The album finally closes with the aforementioned vocal tracks. All throughout, this record displays an amazing portfolio of sounds and shapes with the beat and synths being most notable in each track. It is covered in dance energy and makes you want to groove the moment you press play.
OFFICIAL LINKS:
Website: www.feelmusic.co.uk
Youtube: https://www.youtube.com/channel/UCG-q5sg3kSSwLO07b41O1ag
Facebook: https://www.facebook.com/FeelMusicProduction/
Amazon: https://music.amazon.com/artists/B00TLQ8U3S/musical-alchemist
Deezer: https://www.deezer.com/en/artist/7563858
iTunes: https://music.apple.com/us/artist/musical-alchemist/967571964