"Love Game" (ft. Nathalie Miranda): 3Mind Blight's New Single is a Must-Listen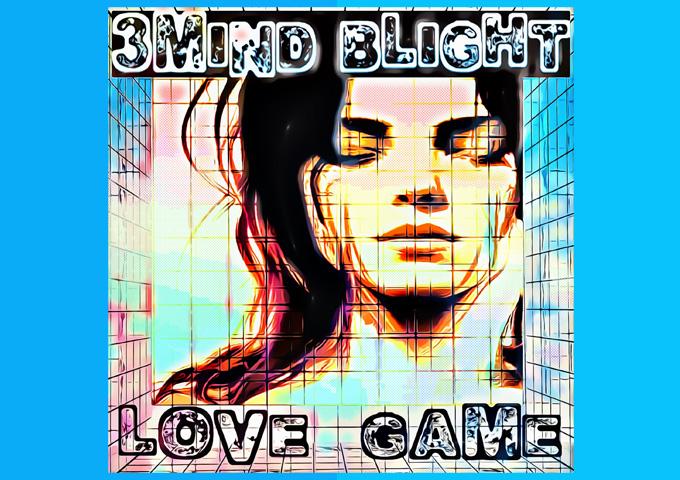 On the 16th of January, 3Mind Blight drops his brand new single, "Love Game" (ft. Nathalie Miranda). The track sees the award-winning singer-songwriter and rapper from Tulsa, Oklahoma lean away from the outright crushing metal heaviness of some to his previous work, towards the sheer emotive weight of his vocal delivery. Listeners usually gravitate towards 3MindBlight's music because of his integrity and authenticity, which are both are at the core of his art. The new single takes those elements and wraps them up within a raw and resonating backdrop of echoing piano chords and steady rolling percussion. The result is a very fierce, profound, and earnest song.
3MindBlight's delivers the gritty, low-end moodiness, as he sings: "Everytime I think that I would rather be alone. I recognize my pride and stay at home. Yet I'm running and running away from you. Because love isn't something that I can do."
Natalie Miranda juxtaposes 3MindBlight's delivery by bringing an edgy angst as she explodes forth: "You're always running and you're never looking back. And our love fades to black it's true. And I blame you. You're running away and I'm outta time. Picking up the pieces that you left behind. It's true And I blame you."
"Love Game" (ft. Nathalie Miranda) is a grounded, earnest, and often affecting track. It is a mélange of inspiration, emotions, and deep contemplation. Lyrically nothing is hidden or shielded in any convoluted symbolism.
The song wears its earnestness on its sleeve and that is an extremely precious asset, as relatability is essential to this composition.  This haunting but catchy tune includes a potent storytelling vocal melody during the verse and a soaring hook during the chorus.
Indeed, the music displayed on "Love Game" (ft. Nathalie Miranda), distills many of the finer elements of much of 3MindBlight's previous work. Not least the singer-songwriter's vocal and lyrical magic, which enhances his compositions.
More importantly, 3MindBlight is also particularly adept at performing alongside female features.  The abrasive grit of his voice is a perfect match for the more acute, higher pitched tones of his counterparts.  Unsurprisingly, this is what renders the new track so captivating.
"Love Game" (ft. Nathalie Miranda) is an increasingly passionate tale of lovelorn longing, where instrumental fervor and lyrical eloquence flourish with a sense of beautiful tragedy. Few other artists capture emotional turmoil with such a sagacious and refined blend of raw intensity and unguarded fragility. This is an expertly crafted synthesis of emotive storytelling, and relatable songwriting.
"Love Game" (ft. Nathalie Miranda) combines vintage and contemporary elements to create a sound that aims for artistic depth and emotional resonance, as it explores the complexities of relationships in a thought-provoking manner.
On each and every release, 3MindBlight expands his sonic template, while also setting the bar higher and higher. This latest track keeps that momentum going. From London-based powerhouse singer Nathalie Miranda's performance, to 3MindBlight's usual vocal and songwriting talents, everything about "Love Game" (ft. Nathalie Miranda) rings with perfection.
OFFICIAL LINKS:
https://3mindblight.com
https://twitter.com/3mindblight
https://songwhip.com/3mindblight
https://linktr.ee/nathaliemirandamusic
https://distrokid.com/hyperfollow/3mindblight/love-game-feat-nathalie-miranda
https://music.apple.com/us/album/love-game-feat-nathalie-miranda-single/1658388170