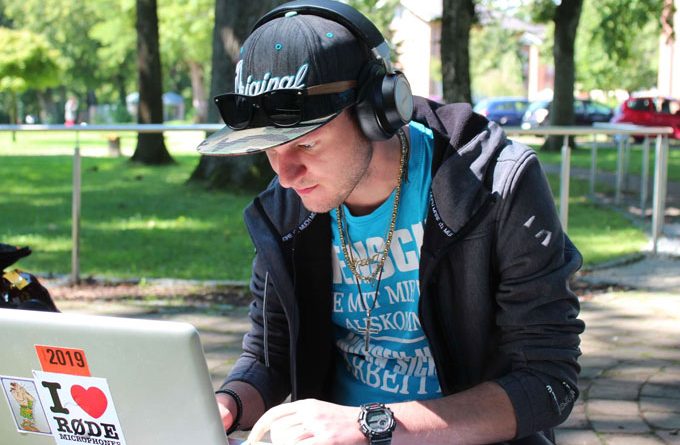 Connected to the Kunst Kollektiv Rosenheim and Kreativ Kartell Rosenheim where Vier Sterne Deluxe Records, are working some major projects, Georg Slany aka LIFECAT, also from Rosenheim, Germany, was introduced to the label. Notwithstanding his time spent living the tough realities of children's homes, as a kid LIFECAT nurtured a passion for music, and as a kid learned to play the piano and drums. He began creating his first songs in 2004, and in 2019 released his first singles on the Room 307 label.  In 2021 he signed a deal with the Vier Sterne Deluxe Records label, and has released his latest single, "Tamarahawk", which is an ode to the love of his life.
The sound of "Tamarahawk" suggests an artist who likes to keep things spick and span. The German producer fastidiously trims and packs a ton of synths and thumping drums, into a shiny five-and-a-half minute set.
LIFECAT's soulful EDM is so polished you can see your reflection in it. Here he shares his knack for lush synth melodies, which spill over onto a four-on-the-floor rhythm, as he keeps them tidily bundled into a driving momentum.
"Tamarahawk" is full of impeccably sumptuous sonics. With its fluttering melodic motifs and growling bassline. It's a blend of the kind of sophisticated peak-time house and the sleek techno, of exclusive high end clubs.
LIFECAT seems happy to drive the dance floor with busy, hard-hitting and layered percussion. Tearing down and rebuilding itself nonstop, it leaves a trail of groundbreaking rhythm in its wake. The arrangement is polished and controlled in every respect.
"Tamarahawk" is the sound of an artist in full command of his mingling intelligent and articulate sound structures, with propulsive, dancefloor consciousness that will win fans all over the world. I would imagine that many nights behind the boards has given him a good feeling and intuition for what can help the music he deals with.
The track says everything about the versatility of LIFECAT's approach to making music and his ability to balance sounds from across the spectrum with heavy-duty rhythms, chord progressions, and melody.
LIFECAT is a dynamic and interactive Producer who blends rolling basslines, harmonic synths, and energetic percussions to craft an infectious and atmospheric sound. His aesthetic is a living force; steeped in techno and house history, but with both eyes firmly fixed on the future.
LIFECAT has the marks of a next level EDM producer. His songs are more than the sum of their parts; an understanding of how the music and the rhythm relates; the emotional and intellectual heft; and originality, are all locked into "Tamarahawk".
LIFECAT is a fiercely forward-thinking producer, whose skillset on his latest single, combines peerless a command of dancefloor sensibilities and exploration of intricate sounds. He has gradually honed his style into the dynamic, colorful sound of beauty that can now be regularly found on Spotify, and other music platforms. With the release of "Tamarahawk", LIFECAT shows no signs of slowing down.
OFFICIAL LINKS: FACEBOOK – INSTAGRAM – SPOTIFY