Lefty Keyz – "The Way You Want Me" & "What If"
Lefty Keyz has production on numerous mixtapes, movie soundtracks, and independent albums. He is self-taught and plays many instruments including the trumpet, guitar, and keyboard. Born and raised on Chicago's south side, he was exposed to gospel, soul, and jazz early in life, which attributed to his appreciation for music. The sleek, hip-hop-influenced sounds of Lefty Keyz's palette can't be limited to one simple style because they aren't shackled to that genre; the interconnectivity of all black music threads through his productions. On his latest album, "The Creator's Way", Lefty Keyz transcends all the boxes most artists fall into. His smooth, saturated instrumentals and indelible bounce are his signatures, so it's no surprise those qualities shimmer throughout this full-length.
Whereas all of Lefty Keyz's past musical work has been produced and done for the hip-hop, and R&B culture, "The Creator's Way", broadens its horizons. "This album is somewhat different and was created and dedicated to Our Creator Yahuah in Heaven," exclaims the producer proudly. The album is a success because Lefty fosters an environment where every guest shines along with the music. It's a beautiful thing when such a diverse range of voices are highlighted in such scintillating templates.
Creating those templates is harder than you'd think, but Lefty Keyz makes it all sound effortless. Lefty is an artist whose respect for the classic core elements of organic music will draw fans in and whose attention to detail will keep listeners nodding their heads throughout.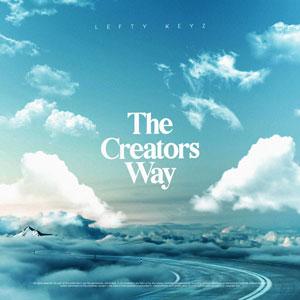 It's hard to listen to "The Creator's Way" without invoking thoughts of music's past, when artists were more about the art, and not simply about stacking the payroll via hype. Lefty Keyz's music has a melodic, relaxed vibe that throbs with incessant rhythms.
In mixing and melody, "The Creator's Way" is closer to jazz, soul and hip-hop than anything else, and Lefty Keyz tends to puts bass and drums front and center to drive the hard-nosed grooves. Not too far behind, the resonant horns and shimmering keys smartly color the canvas, while on top, soaring soulful vocals, and sharply rapped verses, complete the sonic delights of each track. All-round Lefty Keyz manages to craft tracks far beyond the sum of their parts.
On "The Way You Want Me", the first single taken off "The Creator's Way" album, Lefty Keyz shows a unique flexibility and verve, a glowing life that drips, melts, and molds around the vocals, providing the precise support and frame that they need.
There is a spirituality to the aura, something inherently glowing about the beat, as the song flips between melodic hooks and a string of pertinent rapped rhymes. The song is held together by Lefty Keyz's sense of calm. His music, no matter the style, is effortless and relaxed – yet still bangs.
This stunning formula is again presented on "What If", except the soulful vocal hook is showcased by a male voice this time around. It's an incredibly listenable sound, as the pounding kick-drum lends the song an urgent edge, contrasting with the sweetly bubbling keys.
You can hear that Lefty Keyz has put a lot of thought into his work. The skill and ability to rope all the individual elements together is where a lesser producer would falter, instead Lefty reaches inside and translates his musical acumen into a masterful accomplishment.
On both, "The Way You Want Me" and "What If", there are no confines, no restrictions, no borders or boundaries. Just freedom of expression and the skill to fit all the pieces together seamlessly. With his impeccable production aesthetic, Lefty Keyz will be the one to beat this year.
OFFICIAL LINKS: https://www.youtube.com/c/LeftyKeyz