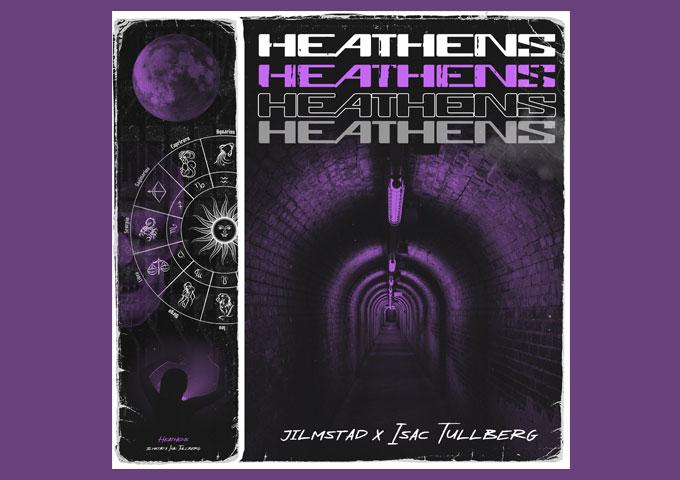 In the world of electronic music, the emergence of fresh, young talent is always an exciting spectacle. Jilmstad and Isac Tullberg, a promising duo hailing from Stockholm, Sweden, who have recently made their mark with their captivating cover of "Heathens," originally penned by Twenty One Pilots. Jilmstad, at just 15 years of age, and Isac Tullberg, a 19-year-old with a background in musical studies, have successfully blended their unique skills to offer an electronic adaptation that breathes new life into this timeless track. The story behind the genesis of this enchanting collaboration is equally as inspiring as the music itself.
Jilmstad, a budding music producer with four years of experience under his belt, had embarked on his musical journey as a solo artist. However, fate had other plans in store for him when he crossed paths with Isac Tullberg during the summer. Both were engaged in teaching music production and multimedia to young minds aged 10-15 at a renowned tech giant. Jilmstad had commenced work on a cover of "Heathens," an ambitious undertaking, and upon discovering Isac's remarkable vocal talents, extended an invitation for him to partake in this project. Isac's affirmative response marked the inception of a musical partnership that would soon be ready to mesmerize audiences.
Their journey culminated in a studio session with the accomplished Swedish songwriter and producer, Ari Lehtonen. The result? A meticulously crafted electronic reimagining of "Heathens" that veers away from the original's rock and pop elements, to manifest as a more lavish and expansive sonic tapestry. Jilmstad's intricate production prowess is on full display here, where he has injected the composition with an even more propulsive beat that forms the bedrock of this mesmerizing rendition.
Of course, another standout feature of this cover is Isac Tullberg's soulful and soaring vocal performance. His voice adds a whole new dimension to the track, effortlessly weaving the intriguing narrative with compelling tones that captivate the listener. The subject matter of "Heathens" is profound, delving into the struggle between good and evil, and the perpetual temptation to yield to the darker aspects of one's self. Isac's emotive rendition breathes fresh life into these lyrics, drawing the audience into a vortex of introspection.
The original "Heathens" by Twenty One Pilots, featured in the "Suicide Squad" movie soundtrack of 2016, had secured its place in the annals of music history. It not only ascended to the pinnacle of the Billboard Hot 100 chart in the United States but also earned platinum certifications across several countries. The song's appeal lay in its catchy melody and the raw power of its lyrics, despite its dark and violent themes.
In their reimagining, Jilmstad and Isac Tullberg infuse "Heathens" with a breath of fresh, electronic air. Their interpretation doesn't merely serve as a cover but rather as an homage that stands tall in its own right, offering a different perspective on a familiar narrative. The lush soundscape, combined with Isac's vocal prowess, elevates this rendition to a whole new level of auditory delight. While the spirit of the original remains intact, this electronic adaptation delves deeper into the underlying emotions, delivering an unforgettable auditory experience.
As we revel in the nuances of this cover, it's essential to remember that Jilmstad is just a 15-year-old prodigy, and Isac Tullberg, though a bit older, is still at the dawning of his musical journey. "Heathens" not only stands as a testament to their individual talents but also as a harbinger of promising careers ahead. In a world characterized by ever-evolving musical landscapes, the duo's fresh perspective and innovative approach offer a glimmer of hope for the future of electronic music.
In a final ode to this remarkable endeavor, we can't help but echo the sentiment expressed in the original song's lyrics: "All my friends are heathens, take it slow. Wait for them to ask you who you know." In this instance, the journey of "Heathens" showcases the immense potential that lurks within the hearts of emerging artists, Jilmstad and Isac Tullberg, beckoning the world to take notice of their profound talents. Embrace their musical offering and get ready to witness the unfolding of their undeniable potential.
OFFICIAL LINKS: https://www.instagram.com/jilmstadofficial/ – https://www.instagram.com/isac_tullberg/