"Forest Road Freestyle" – Sol.'s mesmerizing delivery is off the charts
Sol. is a burgeoning musician, driven by a passion for crafting raw and unfiltered compositions. His adoration for music was instilled at an early age, becoming a vehicle for escape and emotional expression. As a young adolescent, Sol. would put pen to paper to record his thoughts and feelings, unspoken but not unfelt. Eventually, the words he'd scribbled started to take on a rhyming form, culminating in the development of full-fledged songs. A few of Sol.'s acquaintances, impressed with his lyrical prowess, suggested he try rapping, and with the guidance of a vocal coach, he began his journey to musical notoriety.
Originally named Solus, derived from the Latin term for "alone" and with a nod to the term "soul-less," Sol. ultimately realized that the world wasn't all darkness and sorrow. He made the decision to truncate his moniker to simply Sol., in honor of the light that shone through the bleakness of his experiences, and to demonstrate his commitment to a positive outlook. Through his music, Sol. hopes to both pay homage to his roots and resonate with listeners, creating a shared experience that speaks to the power of music to heal and unite.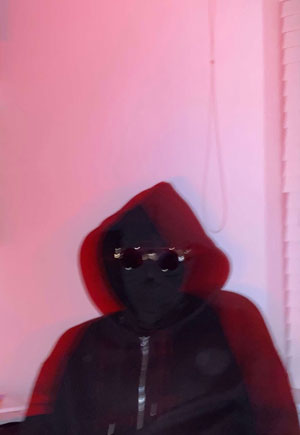 As an artist, Sol. distinguishes his persona from his personal identity, choosing to hide behind a mask to allow the music to take center stage. Sol. views his music as a conduit through which he channels his innermost thoughts and feelings, creating a cathartic release that connects with audiences on a deep, emotional level. With the recent release of his first official single, "Forest Road Freestyle" – a track that began as a freestyle dropped during the pandemic – Sol. is poised to drop more music in the very near future, leaving no doubt that he is a name to watch in the music industry.
Produced by 13th and mixed by Vibonacci, "Forest Road Freestyle" rides on a mellow shimmering beat, featuring gently thumping drums, warm keys and freshly picked guitars. The track unfolds on a mid-tempo, but sustained rhythm, creating a smooth but vibrant backdrop for Sol. to unpack his Brit-accented flow. Any rapper can be heard if they're shouting in your ear, but a skillful emcee can play it chill, and still be heard. Such is the case with Sol. as he leans it his conversational tones.
A trim, concise project, "Forest Road Freestyle" is hard to criticize when the confidence and comfort of Sol.'s delivery are so undeniably cool, his unshakeable authenticity so fully realized. The hazy aura radiates a relaxed energy that perfectly coincides with Sol.'s crystal-clear flow, allowing the listener to drown in the lush aural experience. Though the vibe is laidback, the energy remains consistent throughout the entire song, providing a rich atmosphere that brings the best out of Sol.'s delivery.
The song is filled with clever wordplay and references, and Sol's skillful use of cadence and flow helps to keep the listener engaged throughout. While the lyrics focus on familiar themes such as smoking weed, desire, money, and success, Sol's unique perspective and wordplay elevate the song above typical rap clichés. He also emphasizes his work ethic and the importance of staying busy to achieve his goals.
Overall, "Forest Road Freestyle" is a must-listen for any hip-hop head. It's a masterful display of skill from all involved, and a testament to the power of a well-crafted beat and an emcee who knows how to use it to his advantage. It's the kind of track that'll have you nodding your head and tapping your feet, no matter where you're at. It's like you're drifting on a cloud, lost in a lush aural experience that's hard to come down from. Sol.'s mesmerizing delivery is off the charts, as the whole thing comes together in a rich atmosphere that's just straight up dope. "Forest Road Freestyle" is the sign of a true wordsmith at work.
OFFICIAL LINKS:
Instagram: @sol.us_
YouTube: https://www.youtube.com/@sl.1818
TikTok: @solmusic.official