Colony Couch – "With Friends Like These…" brings many surprising twists to their Indie-Rock & Emo sounds
Colony Couch describe their music as "melancholy songs about apathetic relationships, lost friendships, mentally abusive ex's and healing despite it all." But if you're expecting morbid slow-burning ballads, drowned in gloomy downtempo atmospheres, and awash with self-pity, think again. The Floridian two piece indie-rock/emo band, draw inspiration from the DIY nature of 80's punk, second wave emo acts from the 90's, and 2000's pop-punk. Made up of high-school best friends Clay (vocals) and Max (Instrumentals), Colony Couch turned a back bedroom into a make-shift studio, from where they have been sharing their music with friends for ages, and now unleash their talents to the global public with the EP, "With Friends Like These…".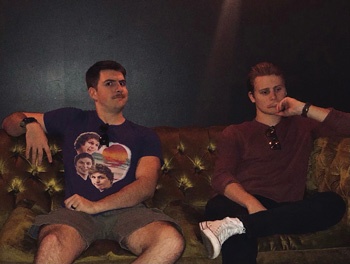 Colony Couch arm themselves with powerful, essential pop punk and indie-rock riffs along with a sincere, heartfelt take on emo lyrics, perfecting a formula of how to create indie-rock and emo anthems in 2022.
Essentially, they take all their influences and inspirations and fit them into the current climate, with a whole bag of their very own tricks. And as incredible as these songs are on their own merit, they work even better in the context of the EP "With Friends Like These…".
"Screened" kicks things off in a buoyant and energetic way. The guitars are pointedly gritty, the drums and bass rumble, and the vocals roar with melodic verve. Max's guitars are borderline monumental on "My Prada's At The Cleaners", sending a pure rush of dopamine down the spine, as they flip between tones and riffs. Clay's vocals start in and understated way, only to finish all fired up. For two friends, some guitars and a laptop, they make a captivating blend of organic sounding bombast.
"Maybe Johnny Vampire (We See)" epitomizes the aforementioned statement.  We all know that perfection is impossible, but this track comes as close as possible to an indie-rock/emo crowd-pleaser in 2022. Banging drums, crushing but melodic guitars, and resonating vocals push this track into the top-tier stratosphere. "I Never Watched The Endgame" brings a surprising sonic twist to the Colony Couch template, as they ingeniously work a jazz excursion into the mix.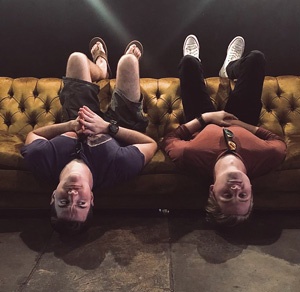 "Don't Call Me Junior" is wrapped around jangling guitars, slapping drums and rolling basslines, igniting tight bursts of explosive energy. On top, Clay lets his vocals loose to reach a distinctive wail.
"Cherokee" again flips the template, as Colony Couch take things down a notch with a slower, more contemplative tempo, before closing the recording with clean strummed guitars and a superb vocal performances on the mid-tempo "Thanks…I Guess?".
It's difficult to know what to expect from a new album that has its foundation in a number of classic and iconic influences, but Colony Couch exceed any expectations you may have based on those inspirations.
Overall "With Friends Like These…" is engaging and diverse, the vocals are incredible, the lyrics are profound, the guitars dashingly bold. It is beautiful, emotional, and most of all, it is honest. It never pretends to be something it's not. Here Colony Couch flex their musical muscles blending well-crafted songwriting with outstanding performances.
OFFICIAL LINKS: FACEBOOK – SPOTIFY