Circle Creek – "The World Is On Fire" – glorious twinges of instrumental and vocal triumph!
The day has arrived that none of us thought was coming. One of the most highly anticipated underground rock albums of the year was released on August 5th via a collaboration effort between the labels Rock Of Angels Records and NRT-Records. Four years after the release of their last EP "Past Presents Future", the Austrian heavy stoner rockers, Circle Creek dropped their 11-track album, "The World Is On Fire". I don't know how ready you may think you are for this release, but I can safely say the band has absolutely delivered one of the best and most encouraging albums of its kind this year.
And while you might be tempted to interpret this release as Circle Creek simply getting back on track, and going about their typically fantastic business as usual, this recording is as powerful in force and colossal in scope as ever. The glorious twinges of instrumental and vocal triumph woven throughout "The World Is On Fire" gives it so much more resonance, not just amongst their own catalog but among heavy rock music this year in general.
The result is a tour de force from front to back, molding stoner rock into one of its most gigantic permutations yet and pairing it with raw talent and drive to surpass any similar album by a degree of light years in 2022. There is no bias or consolatory ease going into this statement. Circle Creek are good enough not to need them, especially when an album like this feels like an absolute peak for them.
Founded in 1983 by the twin brothers Christian Zirkelbach (lead vocals & guitar) and Didier Zirkelbach (vocals & guitar), Circle Creek are part of the cultural heritage of the Austrian music scene and together with Bernhard Wolf (drums) and Wolfgang Huber (bass) the band has been a close brotherhood for many years. In the 1980s, Circle Creek were in high demand. They played on the legendary Opus and Friends festival, and have held various concerts and tours, with well-known artists, such as the Scorpions or Status Quo.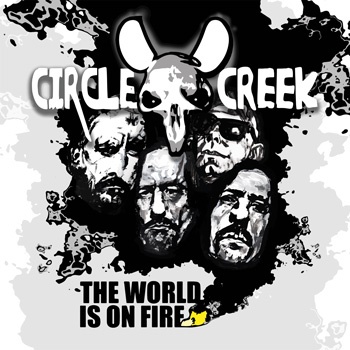 Circle Creek started work on "The World Is On Fire" in 2017. The album was produced and recorded by Circle Creek & Stress Studio, except for the track, "Closed Eyes" which was recorded and mixed by Heinz Luschtinez @zollfreizone. Mixing and mastering, was executed by Tom Zwanzger & Toni Meloni, while the front cover artwork was created by Austrian art legend, Nikolaus Pessler. This is an album of massive bone-crushing anthems.
From the moment the album opens with "D.R.U.G.S" and moves on to "Tell Me Baby" and "In My Universe", the seismic guitars and drums sound nothing less than fantastically heavy and explosive at all times, and it's a surprisingly brisk and tight listen despite how much is anchored in that heft. All the ideal points of a heavy rock album seem to have been hit with little to no hassle, and that makes for a recording that has an inherent accessibility without compromising even slightly.
By the time Circle Creek move across the second triad of songs, which include "Preppers", "Forever" and "Creatures", on a purely musical level, it's clear that this album is as excellent as could've possibly been expected, but the determination that permeates through it bumps "The World Is On Fire" up from being a great album to a genuinely brilliant one. Moreover, the vocals bring forth such an earth-shattering sense of meaning to every word.
There is further nuance that is fed into these songs when Circle Creek use the dynamic soft-loud aesthetic, which can be heard on cuts like "Journey" and "On My Own". The riffs are like huge slabs of metallic power on "Closed Eyes", with all members driving forward as a unit to deliver real impact. The rhythm section is simultaneously tight and dexterous, whilst feeling completely unified.
"Killing Factories" delivers 6 minutes of crushing metal power alternating with atmospheric bass-driven interludes, before the album closes with the racy grind of "Don't Be Afraid". Circle Creek have managed to raise all aspects of their game to an impressive level and the result is something endlessly listenable. "The World Is On Fire" is an instant win for long term fans and serves as a gateway for newcomers who have only just jumped on the Circle Creek bandwagon.
OFFICIAL LINKS:
► Circle Creek on Facebook: https://www.facebook.com/CircleCreekBand
► All Information about The World Is On Fire: https://qrco.de/crclcrktwiof
► Circle Creek – The Official Website: https://www.circlecreek.at