Sky Canyon's Vibraphone Magic: A Musical Journey!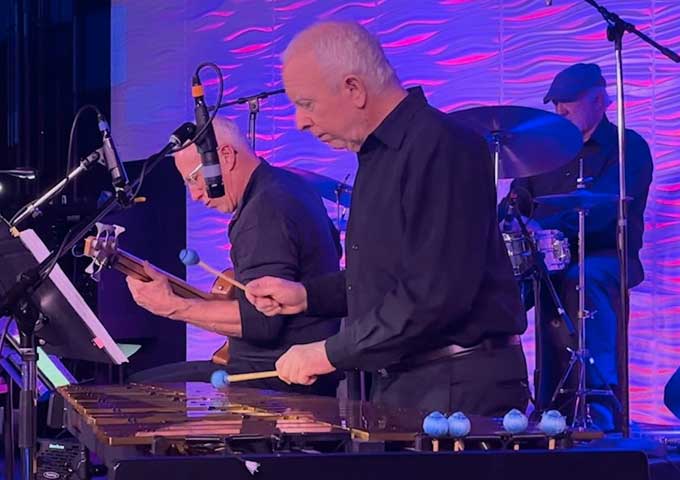 A veteran of over 50 years in music, Sky Canyon is a composer, producer and artist strongly rooted in the world of jazz as well as rock, classical (he was a principal percussionist in symphony orchestras), Latin, and new age music. His love of jazz since an early age, and having studied with jazz vibraphone master Terry Gibbs, inspire his current musical creations. The last two years have seen Sky Canyon wow critics and fans alike with his single releases, 'You Know That I've Loved You (For A Long, Long Time)', 'Wijic', 'Bluesalicious', and his latest March 2023 release, 'Bop That Rhythm'.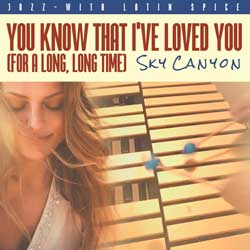 On rare occasions, the universe seems to conspire in our favor, and we find ourselves at the right place at the right time, surrounded by people who bring out the best in us. This is particularly true in the recording studio, where the collective energy and dedication of a team of musicians can result in truly remarkable accomplishments.
Perhaps this is what happened when Sky Canyon sat down to work on these musical projects. It seems that all the stars aligned, and he was able to tap into a wellspring of creativity, technique and focus that led to some truly groovy, swinging and elegant songs.
To perform on these tracks, Sky Canyon recruited an impeccable rhythm section, mainly staffed by bassist Ron Bland and drummer Mike Marlier, as well as pianists Eric Gunnison and Justin Adams, without forgetting Bob Rebholz on alto sax.  It's a beauty and a real treat to hear these chameleonic musicians interact so intuitively. No one overshadows anyone else, but all seem to work hard together to bring out the best in whoever carries the lead.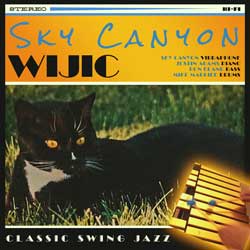 The virtuosity of Sky Canyon's soloing is undeniable, but to fully appreciate the nuances of these songs, listen closely to the intricate interplay of the rhythm section. The arrangements are masterful and every note is executed with precision, resulting in truly captivating musical experiences. There are so many layers to unpack in each track, making it a truly rewarding listening experience.
This jazz ensemble is a perfect example of musicians who are truly in sync with each other, creating a sound that is both complex and accessible. The interplay between each member is seamless, and their personalities shine through in every note. It's a rare treat to hear such sophisticated and emotionally direct music that also manages to be playful and fun. Each track is a journey that will leave you wanting more.
As composer, arranger, producer and player, it's obvious that Sky Canyon majestically rises to the fore, but it's never in favor of himself, and rather in the service of the song. 'You Know That I've Loved You (For A Long, Long Time)' is a perfect melding of melody, musicians and material.
Featuring Justin Adams on piano, Bob Rebholz on alto sax and Sky Canyon on vibraphone, drums, bass, and percussion programming, 'You Know That I've Loved You (For A Long, Long Time)' is smooth  and languid, yet vibrant and colorful, with a stunning sax solo.
'Wijic', which was composed in honor of Sky Canyon's beloved passed-away cat, features Justin Adams on piano, Ron Bland on upright bass, and Mike Marlier on drums. The track emphasizes Sky Canyon's ability to weave in and out of improvisational bursts while constructing ear-warming melodies on his vibraphone.
Featuring Eric Gunnison on piano, Ron Bland on bass and Mike Marlier on drums, 'Bluesalicious' is exactly what the title describes. Sky Canyon plays the melody while Eric Gunnison not only harmonizes, but plays the hits, interacts, and does melodic runs in between.
A role the two switch during the song's runtime. Soloing duets are one of the most difficult things to pull off, as you have to fill up the sound, while at the same time not getting in each other's way. Canyon and Gunnison perform like a well-oiled machine, while drummer Mike Marlier also earns his solo slot.
Sky Canyon's latest single release, 'Bop That Rhythm', again features Eric Gunnison on piano, Ron Bland on bass and Mike Marlier on drums, for another superb interplay. The entire ensemble just plays this song with so much fierceness.
Gunnison comps with aggression, Canyon solos with purpose, the notes and speed do not overwhelm the listener, it just amplifies the level of virtuosity these players have. I would have a lot of trouble selecting the best song of the bunch, but 'Bop That Rhythm' would definitely be a strong candidate.
For all it's structure and beauty Sky Canyon's playing possesses a confident drive, which is in evidence across these tracks, and with his solid mallet technique, his dazzling solos always exude a kind of easy-on-the-ear melodic magic. Overall, these tracks do a great job of giving listeners a healthy dose of Sky Canyon's musical reach.
OFFICIAL LINKS: https://skycanyonjazz.com/ –  www.instagram.com/skycanyonjazz/