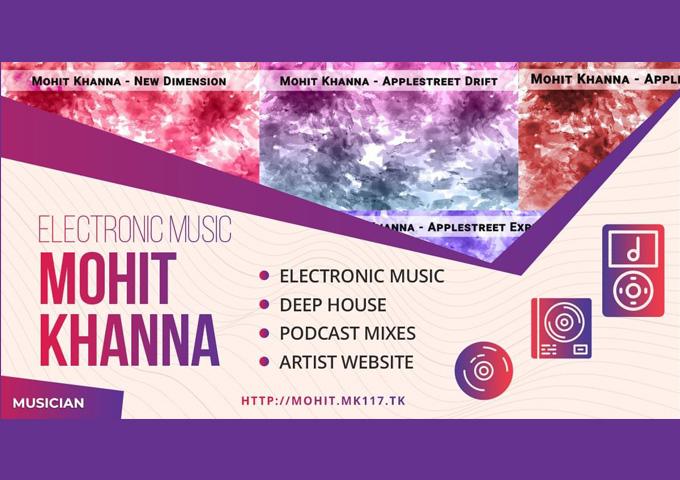 A resident of India, Mohit Khanna has travelled to many places in the world, including Europe, Australia, America and Canada. Currently working as a freelancer for his own software company, Applestreet, Khanna has always had a deep interest for music, listening Rock, Hip-hop and Electronic music from young age, apart from playing games and learning IT on Windows. Now a Mac owner, he has developed various websites and a few mobile apps too. Mohit Khanna, who plays the trumpet, piano, keyboards and drums, started his music career in 2020, and has steadily been building a growing catalog of releases. We recently took a listen to his 2022 album "New Dimension".
The album takes all of Mohit Khanna's skillset and channels it into what can only be called his electronic-crossover masterpiece. Taking its cue from various genres, "New Dimension" is both intimate and grand, hypnotic and laser-sharp.
Impeccably structured percussion dominates these tracks that weave their way diverse rhythms and layers of intensity. It's this kind of ambitious scope which elevates the album above similar projects by his peers or contemporaries.
Indeed, the album is jam packed with contrasting textures as Mohit Khanna's leaves no sound unturned in his pursuit of momentum moving rhythms and expansive moods. The Indian producer, is one of those few artists who could successfully execute the transition from bedroom beatsmith to concert headliner. Thanks to Khanna's skillfulness as a producer and arranger, the sonic templates afforded by "New Dimension" are lush and richly detailed enough to lose oneself in.
"Mistful Rest" gets things off to a busy start, with banging percussion and jangling guitars, before switching to the dancefloor groove of "Fountain of Youth". The sounds flip to a smoother vibe on "Café Melodica", while the percussion maintains an intensely chugging momentum.
The energy levels are pitched perfectly in the sweet spot between chilled and energizing, where Mohit Khanna's mastery at blending these elements, and melding the unpredictable and the obvious, impresses.
Moving forward, the album remains relentless in its percussive work with "Therefore", which features subtle vocal loops, "Relaxing In The Sands", and the guitar dominated "Awake". Khanna's instinctive control of mood and energy, make songs like "On A Holiday" and "The Terminal" so appealing.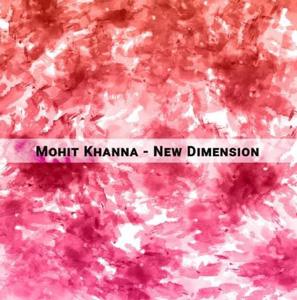 But there are so many sweet elements to this record that shine a light on Mohit Khanna's deft skill as an electronic artist. Not least, on "Evening at Taj", that seems to sublimely blend the organic and the electronic.
Mohit Khanna's intricate production gives songs like "Dusseldorf", and one of the album's absolute standout tracks, "Henceforth", a three-dimensional edge. This latter composition is a pulsating piece of work that grabs your attention right from the get-go.
The closer, "The Rainforest", further widens the album's appeal. It's full of intriguing contradictions, as Mohit Khanna combines spacey atmospherics with melodies that twinkle like dew drops above slapping drums.
All in all, with "New Dimension",  Mohit Khanna has reached a new career high, delivering an album that is as intensely engaging as it is thought-provoking, both listenable and danceable. Khanna's trademark emphasis on percussion, lushness, texture and stirring instrumentals, are on full display here.
The album is at its most powerful when listened through from start to finish. "New Dimension" is proof that Mohit Khanna does not create from cloning electronic templates. He innovates through intelligence, ingenuity and draws expertly from his inspiration.
OFFICIAL LINKS:
http://mohit.mk117.tk
https://www.facebook.com/mohitk117
http://radio.mk117.tk